Genre:
Summary: 16-year old Sakurano Tazusa is a Japanese figure ice-skater who considers herself to be worth $10 billion in beauty. While executing her moves in the Women's Figure Skating Grand Prix, she stumbled and landed badly, hence resulting in her loss in the competition.…
Genre:
Summary: The story follows a boy who was in a soccer team, but it was disbanded due to not enough players. However, after the boy meets a female professional soccer player, he aims to bring his soccer team back. [ 39 TV episodes + 1 Commentary Special…
Genre:
Summary: Girls Und Panzer is set in a world where, not surprisingly, the skill of operating tanks is actually a traditional martial art for high school girls. The plot follows protagonist Miho Nishizumi, after she moves to Oarai Girl's High School, where she is ordered…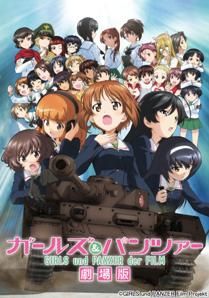 Genre:
Summary: Sometime after the 63rd sensha-dou tournament, Oarai held an exhibition match. (Tag team battle match is great after all).But in order to keep the school open, Miho and her team must win a match against a university sensha-dou team.This…
Genre:
Summary: This is the story of Natsunosuke Honda, a pro baseball player—a relief pitcher who has been playing pro in a team called Spiders for 8 years. The team operates as a highly-stratified society, where the player's performance determines his annual salary.…
Genre:
Summary: A chance event triggered Shouyou Hinata's love for volleyball. His club had no members, but somehow persevered and finally made it into its very first and final regular match of middle school, where it was steamrolled by Tobio Kageyama, a superstar player…
Genre:
Summary: After losing against Aoba Jousai, the whole Karasuno team feels at a loss. Especially Kageyama and Hinata, who seem to be the most devastated about the defeat. However, the team soon cheers up when a chance for them to go to Tokyo appears. During their training…
Genre:
Summary: The third season of Haikyuu!! series centers the match between Hinata's Karasuno team versus Ushiwaka's Shiratorizawa team.