Genre:
Summary: A movie consisting of three parts, basically telling the story of two people, Tohno Takaki and Shinohara Akari, who were close friends but gradually grow farther and farther apart as time moves on. Takaki and Akari become separated because of their families…
Genre:
Summary: Candy is a very nice, warm-hearted and cheerful girl. Many people like her or love her because of her kind personality.When she was a little child, she lived in an orphanage. There she met a handsome mysterious boy on a hill behind her home. This "prince…
Genre:
Summary: Himeno is a sweet, shy little centaur girl. In her world, everyone seems to be a supernatural creature, and all her classmates have some kind of horns, wings, tails, halos, or other visible supernatural body part. Despite their supernatural elements, Himeno…
Genre:
Summary: Very few adolescent boys and girls have an onset of special abilities. Yuu Otosaka uses his ability unbeknownst to others in order to lead a satisfying school life. And then, a girl named Nao Tomori suddenly appears before him. Their encounter reveals the…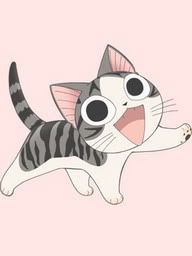 Genre:
Summary: Chi is still living with the Yamada family, but they decide it isn't fair to force her to hide indoors in their "no pets allowed" apartment. So they decide there is only one thing is to be done, Chi must move away for her own happiness. I have placed…
Genre:
Summary: A grey and white kitten with black stripes wanders away from his mother and siblings one day while enjoying a walk outside with his family. Lost in his surroundings, the kitten struggles to find his family and instead is found by a young boy, Yohei, and his…
Genre:
Summary: A story about a small ojisan.
Genre:
Summary: Due to various events, Yuuta and Rikka are living together.Yuuta worries about how to advance his relationship with Rikka. And then everyone else, Nibutani, Kumin, and Dekomori, have powered up by advancing a grade. Furthermore, the cause of his chuunibyou…