Genre:
Summary: Saku Ooyagi returns to his hometown after seven years and is soon reacquainted with his childhood friend, Mihoshi Akeno. The reunion is far from merry since the last memory they have of each other is of her falling off a tree and him saving her. In any case,…
Genre:
Summary: Mari Tamaki is a second-year high school student who wants to make the most out of her youth but is usually too afraid to do so. One day, she meets Shirase Kobuchizawa, a girl who has been saving up to travel to Antarctica, where her mother disappeared three…
Genre:
Summary: Clumsy Hotori Arashiyama is a girl with a love for mysteries and a knack for getting into trouble. Hotori works as a waitress in an unsuccessful coffee shop when the manager comes up with a plan to increase its fortunes by changing into a maid cafe. Unfortunately,…
Genre:
Summary: Hotori Arashiyama loves mysteries, but there's one she just can't solve: why does the solution to one problem inevitably seem to lead to another? Like how when Hotori has to start working at the Seaside Maid Cafe after school to pay off a debt and her friend…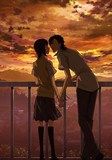 Genre:
Summary: Plot Summary: Mei Tachibana has spent her 16 years without making either boyfriend or friends. One day, she kicks a popular boy in school by accident, Yamato Kurosawa, because of a misunderstanding but for some reason it seems that he takes a liking to her…
Genre:
Summary: The film takes place on a certain isolated island, at a certain middle school, and on the eve of the culture festival. A boy quits baseball after playing his whole life and has a fight with his best friend. Then, they suddenly meet a mysterious, red-eyed…
Genre:
Summary: 20-year-old Michiru Amatsuki moved to Tokyo due to a change of career. She decided to live in a woman-only share house "Stella House Haruno" with people of different age and occupations. It's always fun when there's delicious alcohol and meal!!
Genre:
Summary: Direct sequel to the Tamako Market TV series. Focuses on Kitashirakawa Tamako and Ooji Mochizou's love development.