Genre:
Summary: Figures are one of the many things that otakus love. Kotobuki is one of those otakus that love figures. One day he looks through his aunt's storage and finds a Japanese doll. His aunt warns him that the doll is cursed and has been put away for a long time…
Genre:
Summary: Yukito Kunisaki is on a journey, seeking a girl with wings who flies in the sky, as mentioned in a childhood tale. During this journey, he settles down in a small town, trying to make some money. There, he meets a strange girl named Misuzu. Misuzu quickly…
Genre:
Summary: The story centers around Amaya, Iwasawa, and Uehara—three "annoying, spirited high school girls with zero motivation"—and their classmates. Their daily life is "what happens when there is nothing happening."
Genre:
Summary: Feeling slighted by Rin, Kuro goes on the hunt for a new master, but can he find anyone who can truly replace Rin? A special episode of Ao no Exorcist.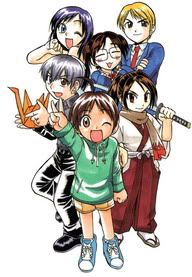 Genre:
Summary: Remember Midori no Hibi? Want more of the chibi, cutesy, "trap" of a dojo owner and his tough son? Samejima Aoi and his troubled son Tetsou are back, with more misunderstandings. Tetsou is still spending his time fending off his dad's male admirers. Now that…
Genre:
Summary: Segua Kingdom has been losing the war against Ninterdo Empire but the tables are turned by the appearance of a boy called Gear. All the characters are parodies of Nintendo or Sega games such as Sonic the Hedgehog, Super Mario Bros., The Legend of Zelda etc.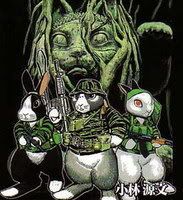 Genre:
Summary: Inside the jungles of Vietnam, a courageous Special Ops. Unit is fighting the most infamous war of decades past—the Vietnam War. This bold account follows the brave exploits of Sergeant "Perky" Perkins and his unit…of rabbits! Join Rats, Perky and…
Genre:
Summary: Every 30 years, a new princess is chosen from the Hime family to serve the Hayagami. The time has come again, but over these past years, records state not a single female has been born, save for one, the 15-year-old Arata. The only problem is, Arata is actually…