Genre:
Summary: In a near future, Kiyan Chie and Anna Moeki have just been hired by the AMB Company as "navi girls" to promote a new service called Moe Can Change. They get to know each other as they test this wacky new service that allows people to change their outfits…
Genre:
Summary: Ichigo Hoshimiya is a regular, ordinary middle school girl. But when her best friend Aoi invites her to join the idol training academy, Starlight Academy, her whole world is turned upside down. As she encounters all kinds of rivals and learns what it takes…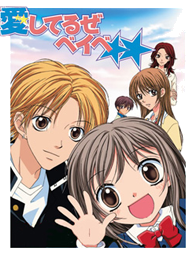 Genre:
Summary: Katakura Kippei is in every way a high school playboy. Spending his days flirting with any female he can see, responsibility is the last thing on his mind. Life takes an unexpected turn for him as one day he returns home to find himself with the fulltime…
Genre:
Summary: Shirayuki was a young girl born with unique apple-red hair. She meets a famous but foolish Prince Raji, who falls in love with her at first sight and orders her to become his concubine. With nowhere else to go, Shirayuki cuts her hair and escapes to a neighboring…
Genre:
Summary: Chacha is a cute little girl who is training to be a good magician. She was raised by her teacher Seravi, who is considered the world's greatest magician. Cha Cha almost always gets strange or disastrous results whenever she uses her magic, so she practices…
Genre:
Summary: Yoshioka Futaba has a few reasons why she wants to "reset" her image and life as a new high school student. Because she's cute, she was ostracized by her female friends in junior high, and because of a misunderstanding, she couldn't get her feeling across…
Genre:
Summary: Hinata Ema is the only daughter of a famous adventurer, Hinata Rintarou. One day, Ema learns that Rintarou is going to remarry with a successful apparel maker named Asahina Miwa. Since she doesn't want to disturb them, Ema decides to move out and live with…
Genre:
Summary: From StarryHeaven: High school first year Sara has a secret…she's really the super-popular singer SALA! However, as an idol her gender is kept a secret from the world in order to sell her music. But can Sara win when she wants to be just Sara…?