Genre:
Summary: Despite her family's protests, Aoi Sakuraba decides that she is going to marry Kaoru Hanabishi, her love of eighteen years. Once he realizes that her intentions are genuine - and that she's not just trying to get him to reconcile with his estranged (and domineering)…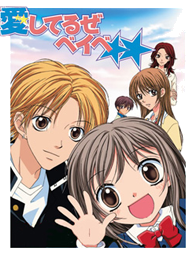 Genre:
Summary: Katakura Kippei is in every way a high school playboy. Spending his days flirting with any female he can see, responsibility is the last thing on his mind. Life takes an unexpected turn for him as one day he returns home to find himself with the fulltime…
Genre:
Summary: Shirayuki was a young girl born with unique apple-red hair. She meets a famous but foolish Prince Raji, who falls in love with her at first sight and orders her to become his concubine. With nowhere else to go, Shirayuki cuts her hair and escapes to a neighboring…
Genre:
Summary: The anime adaptation of the game (same title).This is the TV broadcast and thus, censored. Nonetheless, the video quality is still above the DVD rips, all thanks to the sources.Average File Size: 57.75MB
Genre:
Summary: On his way to school Junichi Nagase saves a girl from danger. Later due to a misunderstanding he kissed her. Shocked and disgusted, and without understanding what just happened or why, she screams at him and tells him to "just die!" As it turns out, the girl,…
Genre:
Summary: Hatanaka Ikko, a 16 year old boy, is a first year trainee at the Saienji Buddhist Temple. He was sent there by his parents to be trained by his grandmother, the Saienji Priestess. At the temple he finds himself surrounded by beautiful female priestesses-in-training.…
Genre:
Summary: According to the official website, two-volume OVA of Amagami SS will be distributed to those who purchase all the volumes of the DVD/Blu-rays of the TV series. The first volume will carry three short episodes of Haruka, Kaoru and Sae. The second volume will…
Genre:
Summary: A continuation of Amagami SS, showing what happens after each girl's respective arc. What if Tsukasa were to run for student council president...?