Genre:
Summary: Ichigo Hoshimiya is a regular, ordinary middle school girl. But when her best friend Aoi invites her to join the idol training academy, Starlight Academy, her whole world is turned upside down. As she encounters all kinds of rivals and learns what it takes…
Genre:
Summary: Seventeen-year-old Nakaido Hirosuke is just your average high school student. One morning as he arrives at the train station on his way to school, he catches sight of a beautiful girl, Ajimu Yasuna, and immediately falls for her. The two of them get to know…
Genre:
Summary: Second part of AKB0048.Starts with Episode 14.
Genre:
Summary: This story takes place about one hundred years ago. Nadja is a bright, cheerful girl who was raised in an orphanage near London, England. Nadja was entrusted to the orphanage when she was a baby. So she thought her father and mother were dead. But before…
Genre:
Summary: The story is set in the Bakumatsu era, at the end of the shoguns' rule over Japan in the middle of the 19th century. The Tokugawa shogunate uses the brainwashing Heaven's Songs by the top idols in Shinsengumi to subjugate the country and its people.In…
Genre:
Summary: For the first 14 years of his life, Yukio Tanaka has been one heck of a boring guy. He has no hobbies, weak taste in music, and only a small vestige of a personality. He yearns for an exciting life, but his shy, and somewhat neurotic personality make him…
Genre:
Summary: Ever since they've seen the pop-idol Reika perform, these three girls have been influenced into becoming pop-idols themselves. They all enroll in the Akiba music school and soon climb their way to the very top while discovering the music of angels inside…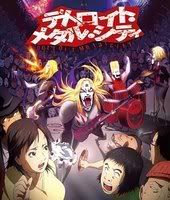 Genre:
Summary: Plot Summary: Detroit Metal City (DMC) is a quickly rising independent Death Metal band. They garner fame by performing wild live shows and writing songs filled with hate, violence, and rape. The band is fronted by S?ichi Negishi who takes on the stage name…