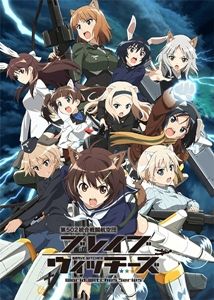 Genre:
Summary: In September 1944, allied forces led by the 501st Joint Fighter Wing "Strike Witches" successfully eliminate the Neuroi threat from the skies of the Republic of Gallia, thus ensuring the security of western Europe. Taking advantage of this victory, allied…
Genre:
Summary: The inhabitants of the continent of Cruzon are born with the ability to freely control quartz. Technology based on this power allows them to perform a great multitude of tasks such as shoot projectiles and pilot mobile suits (called Golems in this society).…
Genre:
Summary: The war against terrorism has gone private. War has always been a profitable business, so having private corporations field their own armies to fight against terrorism is just good business. Who else could protect those innocent bunnies from the religiously…
Genre:
Summary: The Empire of Britannia has invaded Japan using giant robot weapons called Knightmare Frames. Japan is now referred to as Area 11, and its people the 11's. A Britannian who was living in Japan at the time, Lelouch, vowed to his Japanese friend Suzaku that…
Genre:
Summary: The story takes place in Europe in the year a.t.b. 2017. A Knightmare unit made of boys and girls from Area Eleven are thrown into a military operation with a 5% chance of survival. They must rescue an allied unit left behind on the European warfront.
Genre:
Summary: New orders are given to the W-00 Unit. Their cruel contents order them to land in the middle of the enemy as a diversion. The pilots of the W-0 Unit consist only of the commanding officer, Leila, the only surviving Japanese from their last battle, Akito,…
Genre:
Summary: Third episode of Code Geass: Boukoku no Akito.Password: Cafqyqyk
Genre:
Summary: While W-0 is away, Leila and the remaining crew at base find themselves surrounded by Britannian Knightmares. Piloting the Vercingetorix, Shin Hyuuga leads the enemy charge, having usurped the position of Grand Master in the Knights of St. Michael. With her…