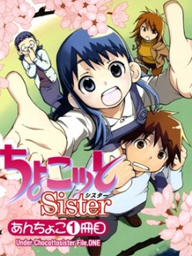 Genre:
Summary: Haruma Kawagoe is an only child. A long time ago, at Christmastime, his mother miscarried the child that was to have been his baby sister. That night, young Haruma knelt down and offered up an earnest prayer: "Please make my mother well again, and please…
Genre:
Summary: Illyasviel von Einzbern is an ordinary elementary school student who becomes a magical girl when the magical Kaleidostick Ruby deems her a more suitable master than the sorceress, Rin Tohsaka. Rin, who had been tasked by the wizard Zelretch to collect the…
Genre:
Summary: Based on the Fate/Kaleid Liner Prisma?Illya 2wei! manga by Hiroshi Hiroyama, which is a spin-off of the Fate/stay night erotic visual novel by Type-Moon.MALNote: Not Ordered ChapterSubs: Tsundere (Hiryuu)Video: 1024x576@crf21…
Genre:
Summary: The magical girls are back, and ready for another round of adventure! After successfully recovering the Class Cards, fifth graders-turned magical girls Illya and Miyu think they can finally take it easy. But as fate would have it, the girls are once again…
Genre:
Summary: Illya and the gang have finished their battle against the heroic spirit residing in the eighth class card. They're back in vacation mode again, looking to make the most of what they have left of summer break. But their hopes get crushed in the blink of an…
Genre:
Summary: Cocoa arrives at the cafe Rabbit House one day, excited for rabbits. She actually all but lives in that cafe. She meets lots of different girls there, including a tiny and cool girl named Chino, a tough and soldier-esque girl named Rize, a spacey and quintessentially…
Genre:
Summary: Second Season of Kore wa Zombie Desuka?pass is MIQ
Genre:
Summary: A series of short stories that follow the cast of Kure-nai shows the characters' everyday happenings and reveal more of their eccentric behaviors and personalities. Also features new character designs closer to the novel/manga.