Genre:
Summary: Figures are one of the many things that otakus love. Kotobuki is one of those otakus that love figures. One day he looks through his aunt's storage and finds a Japanese doll. His aunt warns him that the doll is cursed and has been put away for a long time…
Genre:
Summary: Despite her family's protests, Aoi Sakuraba decides that she is going to marry Kaoru Hanabishi, her love of eighteen years. Once he realizes that her intentions are genuine - and that she's not just trying to get him to reconcile with his estranged (and domineering)…
Genre:
Summary: First episode is based on the 16th volume of the manga. Features Ikki vs. Ringo.Second episode is based on the 23th/24th volume of the manga. Features Kogarasumaru vs. Sleeping Forest inside Inorganic Net.
Genre:
Summary: The anime adaptation of the game (same title).This is the TV broadcast and thus, censored. Nonetheless, the video quality is still above the DVD rips, all thanks to the sources.Average File Size: 57.75MB
Genre:
Summary: Hatanaka Ikko, a 16 year old boy, is a first year trainee at the Saienji Buddhist Temple. He was sent there by his parents to be trained by his grandmother, the Saienji Priestess. At the temple he finds himself surrounded by beautiful female priestesses-in-training.…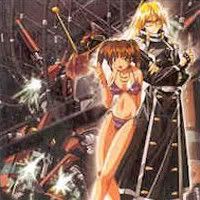 Genre:
Summary: Nanako is a an inept apprentice nurse to the brilliant young Dr. Kouji. Now for some reason, Nanako is always being targeted by various elements which makes Nanako wonder if she has done anything wrong. But there are certain secrets to Nanako's past that…
Genre:
Summary: When Konoe Moyako and her little brother, Akira, were young, he said he wanted to marry her. Naturally, Moyako decided that her little brother was a complete pervert who was obsessed with her. Now that they're both teenagers, Moyako is convinced she needs…
Genre:
Summary: A special episode of Ano Natsu de Matteru which will be included in the Blu-ray box set, set to be released in Summer 2014.