Genre:
Summary: An Angel Eater has been freed in Heaven. Since Goddesses and Angels share body and soul, losing your angel results in going into shock for the Goddess. Lind goes to Earth to protect Belldandy and the others unknowing that it is a trap.
Genre:
Summary: One year after goddess Belldandy emerged from Keiichi Morisato's mirror and promised to stay with him forever, a new threat to their happiness emerges, one that could end the contract between Belldandy and Keiichi. Dual Audio,…
Genre:
Summary: This 4-koma style manga features Yoshiko, a genuinely stupid girl (she can even manage to get all 0's on multiple choice tests). She hangs out at school with her childhood friend, who she claims to like, and he has to put up with all her ridiculous behavior!
Genre:
Summary: The story follows girls in a manga club —Ai, Mai, Mii, and Ponoka-sempai—who might be fighting evil invaders threatening Earth, facing off against rivals in tournaments, and dealing with other absurd situations when they are not drawing manga. ANN
Genre:
Summary: In a near future, Kiyan Chie and Anna Moeki have just been hired by the AMB Company as "navi girls" to promote a new service called Moe Can Change. They get to know each other as they test this wacky new service that allows people to change their outfits…
Genre:
Summary: Despite her family's protests, Aoi Sakuraba decides that she is going to marry Kaoru Hanabishi, her love of eighteen years. Once he realizes that her intentions are genuine - and that she's not just trying to get him to reconcile with his estranged (and domineering)…
Genre:
Summary: A former gymnast, Aikawa Maki has turned her skills to a different way of life - street fighting. The only thing that truly makes her feel alive is violence. With amazing power and grace, she fights opponent after opponent, repeatedly demonstrating the gymnastic…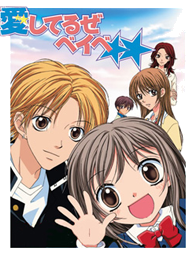 Genre:
Summary: Katakura Kippei is in every way a high school playboy. Spending his days flirting with any female he can see, responsibility is the last thing on his mind. Life takes an unexpected turn for him as one day he returns home to find himself with the fulltime…