Genre:
Summary: A parody series featuring the entire cast of The Melancholy of Haruhi Suzumiya in a smaller form factor. Among the changes are: Yuki plays eroge, Haruhi is even more obnoxiuous and loud, Mikuru is even more emotional and Koizumi harbors a deep love for Kyon.…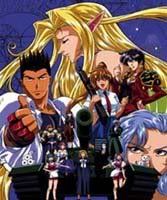 Genre:
Summary: Plot Summary: An actor, a martial artist, a gun-crazy high school student, and their tank are transported from earth to a world of elves and magic. However, the spell to return them home was botched resulting in fragments of the spell being magicly imprinted…
Genre:
Summary: Plot Summary: After Junpei botched the second attempt to transport back to Japan, the four embark their journey once again to collect runes imprinted on skin of Elven females by stripping them. Celsia is cursed into the form of another animal this time.
Genre:
Summary: The first of two Tiger and Bunny movies, based on the first two episodes of the TV series with additional new scenes.
Genre:
Summary: The film will revolve around a mystery that happens on the day of the "Justice Day" festival that celebrates Sternbild's legendary goddess.
Genre:
Summary: Second season of To Be Hero.MALSubs: HorriblesubsVideo: 848x480@crf24 10bitAudio: ffmpeg@48kbps
Genre:
Summary: Following the first season's gag action theme, the second season titled To Be Heroine will feature an original story and a new set of characters.Subs : HorribleSubsVideo : 848x480@crf24 10bitAudio : ffmpeg@48kbps
Genre:
Summary: Following her graduation from middle school, Konomi Yuzuhara enters the same high school as Takaaki Kono, her childhood friend. As the new school year begins, they meet their childhood friend Tamaki Kosaka, as well as many new accquaintances. Unbeknownst…