Genre:
Summary: Second season of Amanchu!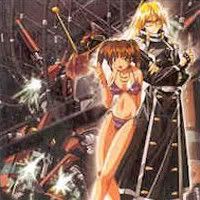 Genre:
Summary: Nanako is a an inept apprentice nurse to the brilliant young Dr. Kouji. Now for some reason, Nanako is always being targeted by various elements which makes Nanako wonder if she has done anything wrong. But there are certain secrets to Nanako's past that…
Genre:
Summary: It is the year 2010, and a plethora of radio stations are competing for the attention of the millions of prospective listeners that tune in daily. A new breakthrough in radio technology, namely an android announcer, Maico, capable of delivering non-stop excitement…
Genre:
Summary: When Konoe Moyako and her little brother, Akira, were young, he said he wanted to marry her. Naturally, Moyako decided that her little brother was a complete pervert who was obsessed with her. Now that they're both teenagers, Moyako is convinced she needs…
Genre:
Summary: A young Taiwanese assassin codenamed "Glass Heart" committed suicide by jumping off a building, and her heart was pierced by metal fence. Miraculously, her life was saved by heart transplantation. During her recovery she began to experience strange dreams,…
Genre:
Summary: The anime centers on Minoa Asagaya, a new high school student in Sakaneko Private High School. Despite being a novice to anime, Minoa's classmate Arisu Kamiigusa invites her to make an "anime research club" at school. Through conversations with her classmate…
Genre:
Summary: A special episode of Ano Natsu de Matteru which will be included in the Blu-ray box set, set to be released in Summer 2014.
Genre:
Summary: Yoshioka Futaba has a few reasons why she wants to "reset" her image and life as a new high school student. Because she's cute, she was ostracized by her female friends in junior high, and because of a misunderstanding, she couldn't get her feeling across…