Genre:
Summary: After managing to get past the battles concerning the royal successor for Sindhura, Arslan and company made their triumphal return to Pars to find Hilmes the brave general with the silver mask standing in their way. And by the time they somehow get Hilmes…
Genre:
Summary: Since childhood, Tadahiro Amatsu has two different-colored eyes - one brown and one light hazel. But because of a dark secret behind his left eye, he's become a target for the masked sorcerer Ayatara Miramune and his band of demons. To combat the demons appearing…
Genre:
Summary: Adapted from the 2005 adults-only superhuman battle action visual novel game Ayakashi. Ayakashi is a parasite life force that gives superpowers to its host, taking in return the host's entire life force. Kusaka Yuu is a student that lost his will to live…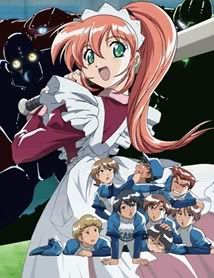 Genre:
Summary: The year is 2099, and it is a time when robots are allowed on the field to play baseball. Shunpei is a typical teenager with a knack for electronics and a passion for baseball. His baseball team, unfortunately, is in a real slump and they cannot afford to…
Genre:
Summary: Koichi Kamiya is a normal student, but one day, a mysterious voice wakes him up from his dream, and asks him to fight against evil in the name of Babel II. The next day, he meets Juju, Wong and the powerful Lord Yomi, who is trying to gather a powerful group…
Genre:
Summary: During the late 1930s in Chicago, the transcontinental train, Flying Pussyfoot, is starting its legendary journey that will leave a trail of blood all over the country. In addition, a war between the mafia groups is getting worse.Based on the award winning…
Genre:
Summary: Three DVD-only episodes made from the light novels, which flesh out characters and plot events from the original series and establish closure to the story as Carol and the Vice President return to New York.
Genre:
Summary: When Kyuta, a young orphan living on the streets of Shibuya, stumbles into a fantastic world of beasts, he's taken in by Kumatetsu, a gruff, rough-around-the-edges warrior beast who's been searching for the perfect apprentice. Despite their constant bickering,…