High School DxD Hero
Plot: S4 of DxD.
---
Harukana Receive
Plot: The story takes place in Okinawa, where Haruka forms a beach volleyball pair with Kanata. Kanata, who couldn't handle the pressure put on her by her short height, had given up on beach volleyball already but is convinced by Haruka to step back on the sand once again and aim for the junior tournament.
---
Yuragi-sou no Yuuna-san
Plot: Fuyuzora Kogarashi has the ability to see supernatural, and has been possessed by ghosts since he was a kid. This has caused a lot of trouble in his life, but now he has learned to fight back against the evil spirits! Unfortunately, he's now also very poor, homeless, and hoping for a happier, more normal, high school life. In his search for housing, he's introduced to a very cheap boarding house called Yuragi Manor, which was formerly a popular hot springs inn. It's so cheap because the house is haunted by the spirit of a high school student whose corpse was found there.
---
Hyakuren no Haou to Seiyaku no Valkyria
Plot: Some urban legends are best left untested! Yuuto Suou gets more than he bargained for when he joins his childhood friend Mitsuki Shimoya in testing out an urban legend. When he uses his phone to take a picture of himself with the local shrine's divine mirror, he is whisked off into another world—one heavily steeped in the lore of the old Norse myths.
---
Death March kara Hajimaru Isekai Kyousoukyoku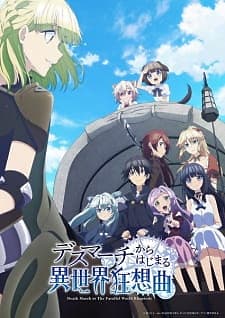 Plot: Ichirou Suzuki, a programmer nearing his thirties, is drowning in work. Worn out, he eventually has a chance to catch up on sleep, only to wake up and discover himself in a fantasy RPG world, which is mashed together from the games he was debugging in reality. In this new place, he realizes that not only has his appearance changed to a younger version of himself, but his name has also changed to Satou, a nickname he used while running beta tests on games.
However, before Satou can fully grasp his situation, an army of lizardmen launch an assault on him. Forced to cast a powerful spell in retaliation, Satou wipes them out completely and his level is boosted to 310, effectively maximizing his stats. Now, as a high-leveled adventurer armed with a plethora of skills and no way to return to reality, Satou sets out to explore this magical new world.
---
Isekai Maou to Shoukan Shoujo no Dorei Majutsu
Plot: In regards to the MMORPG Cross Reverie, Sakamoto Takuma boasted an overwhelming strength that was enough for him to be called the Demon King by the other players. One day, he gets summoned to another world with his appearance in the game. There, there are two people that insist "I am the real summon master." Takuma gets slave-turning magic used for summoned beasts cast on him by the girls?
---
Killing Bites
Plot: People have been created that are human-animal hybrids, and powerful businesses bet on the outcome of their duels. College student Nomoto Yuuya's casual acquaintances ask him to drive them around to pick up girls one day, which he soon finds out means by force. The girl they kidnap is an animal-human hybrid named Hitomi, who slaughters all of them except Yuuya. Hitomi is a honey badger, which has been called the most fearless of all animals. Now Hitomi is assigned to stay with Yuuya, for his protection!
---
Senran Kagura Shinovi Master: Tokyo Youma-hen
Plot: Second season of Senran Kagura.
---