massive barrage update
Mcdonald and Jollibee XD
Quick drawing of Ronald Mcdonald, Jollibee and Wendy.
"Influenced" through viewing multiple (and messed up) Mcdonald and Jollibee stuff in DA >_>
Was actually planning to make em fight long ago but was still never started, mebbe later when i acquire more knowledge and ideas -_-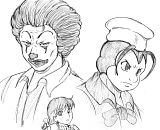 Early touchscreen tablet attempts
Yes im still newb at this but here's some quick early sketchy attempt while im chattin with in YM using the TX2000 lappy touchscreen tablet
Layers are goddamn useful lol, makes erasing and managing things easy (noob comment XD )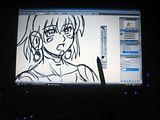 how i crappily sketch my drowings XD
sarap pagtripan nitong TX2000 hehe
http://www.youtube.com/watch?v=IeLZZlGBNc4
still calibrating myself to the pen behavior...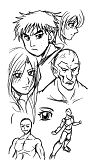 another one
seems like a lil cleaner this time...>_> Paint tool SAI is used...
full body works soon (i hope)
more faces -_- its still pretty hard to draw directly, now im noticing that the screen is too slippery to draw unlike paper i must overcome that...
and it seems i wont be able draw comics/arts as fast as before damn -_-
will try bodies soon...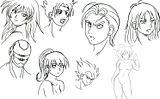 some more pencils, there's sumthin about the feeling of graphite sliding along a sketchpad that i just can't let go
Quick doodle (around 20-30min i think)
If i have time i will continue my session with teh tablet -_-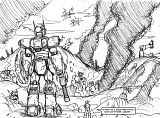 Some folks in DA wanted to do some sort of drawing challenge and draw a monster shark like thingy so here's one...
So i hit my head pretty hard lately and i notice that i can move the ID pic on top of the page in Deviantart...i smirked and drew sumthin like a panoramic/connected image with 2 separate pics so the two recent deviations are born XD
(view my frontpage nao! >_> )
http://viperxtreme.deviantart.com/
Its not that proportional though since the resizing is kinda weird on the front page (and may also depend on the screen resolution)
Original Image here:
Anyone know Doraemon??? >_>
http://en.wikipedia.org/wiki/Doraemon
When i was trying out on drawing Nobita he kinda looked like Kazufusa from Rabuyan (i betcha most folks dont know this) so i modified him a bit...