| | |
| --- | --- |
| | |
| | |
| --- | --- |
| Author | Topic: top five games (Read 7102 times) |
---
Legend of Dragoon, Final Fantasy 8, Zone Of The Enders 1/2,Megaman X4, Armored Core 2
Logged
---
No H games o.O, I expected some ppl here would share their favorite(s) XD
Logged
---
---
1. Red Alert 2
2. Fable
3. Titan Quest
4. War Hammer 40k series
5. Hitman series
Logged
---
fable is a good game finshed it heaps of times
Logged
---
hi
---
I didnt make it very far in Fable 2 but it looks promising any fan of Fable 1 should check it out when i get a little further into it ill post more of a review
Logged
---
---
Hey Animestash-Friends
How about these: I'm a Really Big CRPG-fan, well because im already very old
, I grew up with the first game console: the Legendary Atari 2600, yah (one button joystick lol); all the great Namco hits: Pacman, Space Invaders, etc many more.
Then off course played all my youth with the Nintendo NES, Sega Master System, Game boy, Game Gear, Megadrive, Super Nintendo, sometimes rented a Neo-Geo, played a lot in the arcades: Double Dragon, Final Fight, Outrun, etc. Played a few Japanese RPG's on them (but never finished them): Final Fantasy, Phantasy Star, etc. and later a Game Boy Advance: Golden Sun, Fire Emblem (strategy-mix) and a few i forgot. Also played a lot with the Amiga 500; a great game-computer (at the time better than pc!).
Then I bought me a PC and became a real RPG-freak: (old Dos-games) Eye of The Beholder, Lands of Lore, Might and Magic, Quest for Glory (plus adventure), Ravenloft but neither finished them. Luckily Windows 95/98/XP came (with 3d/direct x): Might and Magic 7, Diablo 1+2, etc. Had a Playstation 1 for Final Fantasy 7 but couldn't finish it. So all the above games i never played untill the end but only the next ones:
Hardcore from the beginning Bioware + Black Isle fan!
Creitrod and KillerKrauser for you:
(Disliked Neverwinter Nights 1&2)
-
Planescape Torment: great Classic, a lot of text but great story, atmosphere and funny party members like the floating skull Mortie, the harlot, etc
-
Baldur's Gate 2: BEST RPG, ever played so THE GAME for me; great story, gameplay also funny party members like Minsc, special loveinterest Viconia, etc [/i]
-
Knights of The Old Replubic 1: you play a Jedi, enough said there lol (the sequel was not so good)
-
Jade Empire: Kungfu rpg
-
Mass Effect: Sci-fi rpg; great story, I chose Biotic because cool powers (always try to play a mage); have yet to play the sequel
-
Dragon Age Origins: almost finished this, not as classic as Baldur's Gate 2 but still very good; have yet to play Awakenings and sequel
So you see, been there from almost the start; like with the anime: the early 80's till now still playing games and loving my Anime and Manga.
Greetings, Ciao
Logged
---
Please call the wise Old Man who knows your classic anime-series: a lot of the '80s and early 90's.
Yes, I even saw Astroboy on tv way back in time.

Also I'm the Hokuto-experto, see my uploads to proof this:).
---
Ah...you know what happens to me? I don't finish or get only part-way through the beginning on those RPG's...and then I don't finish them. Then I don't want to play any others in the series since they're unfinished
Might and Magic 7 is a good game...but M&M6 is the best out of those types for me - it has a lot of freedom and the story is fairly compelling. M&M7 also has a graphics style that feels a little cartoony and I didn't really like the classes - M&M8 has better animation (closer to the first) but the story isn't very compelling.
I tried 6,7 & 8... but although simpler, 6 is the best... still would be good with some more arcomage tho
I'm still part way through Lands of Lore 1...it's great, but the puzzles...lol. Lands of Lore 3 I actually played an age before and loved to bits, but it's a first-person sworder, which I really like. They had a great familiar system which no one else has managed to do yet...for no reason.
I've never had a console, but later on I fired up the Sega Genesis emulator (gens), and picked up a fair few games i'd missed. I did manage to play Phantasy Star 4, which I still think is awesome and had a story that I really felt that first time I played.
I'm still 75% of the way through BG1 lol...I know BG2 is supposed to be good, but because i've never finished BG1...
Must...play...Planescape.
Logged
---
---
1- Devil May Cri
2-Kingdom Hearts
3-Resonance Of Fate
4-Wild Arms
5-Devil Kings
I like to watch my brother play Final Fantsy But I do not like to play it .
Logged
---
---
Dragon Age: Origins rocked my world. Superb story line with a dynamic cast of characters. A great way to practice yourself of thinking ahead before making choices. What would you expect from Bioware that made Baldur's Gate, Neverwinter Knights, and Mass Effect? Sadly, the comments and feedback on Dragon Age: 2 isn't that great.

The World Ends With You is another one with a superb story line and a not forgotten cast. Background musics are great and the characters feel real. Great use of the DS' hardware too.

Starcraft II will be my RTS top pick, great advance leap from its predecessor. A nice development on the units and structures.

Call of Duty Modern Warfare 2 The very first time I played this, I shouted literally at the monitor "Wow". This is the closest urban/modern warfare you can get without the military training. Excellent graphics and the missions are nothing but great

My 5th spot goes to the interaction-games like MMORPGs and lan games. Warcraft III's custom map Defense of the Ancients or popularly known as DOTA and Ragnarok online are good games. Just find a good server for both and pawn.


Just my input. Of course I prefer not to rank my games. I sort them into genres like RPG, RTS, FPS, Open World/Sandbox, MMOG, etc because each genre have different parameters that makes each game at the top. The above games are my top picks for their respective genres.

Play hard. Pray harder

Dream hardest
Logged
---
---
Top Five:
1. Mount and Blade: Warband, the GREATEST GAME EVER MADE!
It is an: RPG, RTS, FPS, hack and slash, grand strategy, and economics, game.
Hell yes.
2. Warhammer 40k: Dawn of War 2
RTS heaven, with customizable squads and a great 40k story to boot.
3. Dwarf Fortress
The only game I know to have a learning CLIFF!
4. Shogun 2 Total War
Fixed what Empire messed up, looks great, plays well
5. Just Cause 2
Grand Theft Auto meets spiderman. Yeah. 'Nuff said.
Must...play...Planescape.

Wow, I think I still have MY copy of that around here somewhere, it was a pretty good game.
Logged
---
Twin of Harukaze Rin since May 27, 2011. Protected by Angel Nathaniel
---
Dead space

Resident evil 4 first horror game i played in ps2, i was new to horror shooter games that time, this was the first game that introduced third person over the shoulder perspective, which was later found in many games like gears of war, dead space etc

Legend of zelda twilight princess

Devil may cry 3

Gta 4
Logged
---
1. Call of duty series (the story is awesome. ''No russian'' very best quote ever heard

2. Red alert 3, want to see ussr vs empire of the rising sun, just play this game

3. GTA SA best game i ever play in PS2

4. Borderlands, crazy fps i ever played

5. Shogun2 total war, awesome turn based strategy
Logged
---
Ask not what your country can do for you - Ask what you can do for your country. (John F. Kennedy)
---
Tales Of Legendia - RPG (The story is just too awesome, and the graphic is totally smooth, battle skills are cool)

Hack.//.Gu - RPG (Unique Story, awesome weapons, characters are damned too cool, feels like play the real online game)

Tekken 6 (Like playing fighting games ? play the best fighting game ever made, Tekken 6 is your choice)

Dynasty Warriors series (Thirsty off blood ? Killing ? this is the best Hack n Slash game, try it)

Namco X Capcom (Your fave chars in 1 game should be enough to make you sit all the day on your chair, and play this RPG game, with combined-unique story, this game is totally awesome)


Logged
---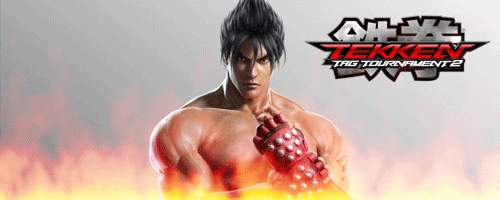 "The world isn't perfect. But it's there for us, doing the best it can. And that's what makes it so damn beautiful."
| | | |
| --- | --- | --- |
| | | |
| | | |
| --- | --- | --- |
| | | |
| | | |
| --- | --- | --- |
| | | |