Genre:
Summary: An original video anime bundled with a limited-number edition of Corpse Party -The Anthology- Sachiko no Renai Yuugi Hysteric Birthday 2U spinoff game.
Genre:
Summary: The humanity is suffering from murders all over the globe, called "Mincemeat murders". High school student, Izumi Shinichi has a parasite living off him, having replaced his right hand, and he might be the discoverer of truth.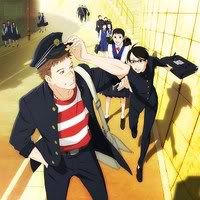 Genre:
Summary: Plot Summary: Summer 1966: Kaoru Nishimi has moved to live with relatives in Ky?sh?. He's been an aloof honor student his whole life, but that starts changing when he meets Sentar? Kawabuchi, the school's notorious bad boy. Through him, he learns the appeal of jazz and forms his…
Genre:
Summary: There was once a Holy Grail War waged by seven Mages and Heroic Spirits in a town called Fuyuki. However, a certain Mage took advantage of the chaos of World War II to steal a Holy Grail. Several decades have passed, and the Yggdmillennia family, who took upon the Holy Grail as its…
Genre:
Summary: Amamiya Shuuhei moves from Tokyo to the country side due to his grandmothers bad health. His father is a famous pianist and Shuuhei has taken strict piano lessons since he was very young, aspiring to follow him. In school he is teased by his classmates and dared to play the piano…
Genre:
Summary: New OVA series of Hayate no Gotoku!, which is part of the manga's 10th anniversary project. One episode each will be bundled with volumes 41 to 43 of the manga.
Genre:
Summary: After being abused by her mother physically and mentally Asuka gets taken in by her grandparents. Slowly she learns her own worth as a human being and overcomes many obstacles.
Genre:
Summary: In the all-new story, Lelouch makes the ultimate use of his Geass power for his little sister Nunnally, who loves Alice in Wonderland.