Genre:
Summary: An omnibus that consists of three short anime films based on the short stories written by Sci-Fi novelist Mayumura Taku: "Labyrinth Labyrinthos" (the screenplay and direction by Rintarou), "The Running Man" (the screenplay, direction and character design by Kawajiri Yoshiaki) and…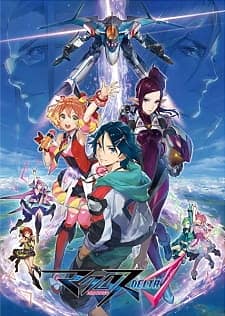 Genre:
Summary: Eight years after the events of Macross F, a mysterious phenomenon known as the Var Syndrome is gradually consuming the galaxy. It's up to a new generation of highly capable Valkyrie pilots to deal with this universal menace. And if they didn't have enough on their plate already,…
Genre:
Summary: A special episode of Ano Natsu de Matteru which will be included in the Blu-ray box set, set to be released in Summer 2014.
Genre:
Summary: Ceres was a tennyo (Celestial maiden) who came down from the heavens to bathe in a stream. She hung her hagoromo (robe) on a tree nearby, which was her key to returning to the heavens. But the robe was stolen and the man who had stolen it forced her to become his wife, thus producing…
Genre:
Summary: A group of childhood friends drifts apart after one of them, Meiko "Menma" Honma, dies in an accident. Years later, the leader of the group, Jinta Yadomi, has become withdrawn and lives as a recluse. An older Meiko appears to him, and says that she must have a wish granted, though…
Genre:
Summary: Based on Kurii Cha's gag comedy manga, Plastic Nee-san is a very short anime that follows a third-year high school girl who likes building plastic models and the wacky conversations she has with her fellow club members.Link Pass: a-stash
Genre:
Summary: Half a year after the downfall of Gorgom, Kotaro Minami has gotten a job of a helicopter pilot in a business owned by the Sahara family. Kotaro is later captured by the Crisis Empire and offered a place in their group. When Kotaro refused, his King Stone was shattered and he was…
Genre:
Summary: Kobayashi lives alone in an apartment, until one day, Tooru appeared and they ended up living together. Tooru looks down on humans as inferior and foolish, but having been saved by Kobayashi-san, she does everything she can to repay the debt and help her with various things, although…