Genre:
Summary: Days follows the struggles of Tsukushi Tsukamoto, a shy and clumsy about to start high school. He decides to get in Seiseki High School so he can be with his neighbor and childhood friend Sayuri Tachibaba, who is one year his senior. Jin Kazama then asks Tsukushi to join…
Genre:
Summary: Aizawa Ayumu is a young boy, who is sent to a small town called Tana to live with his father for a while. Even though he doesn't want to go, he agrees to do so when his mother offers him a mountain bike. Ayumu used to live in Tana before, and now his memories of the time are shrouded…
Genre:
Summary: In the not so distant future, to cope with the traffic jams and verticalization due to the increased population, the city of Tokyo was reconstructed under the theme of city sharing in which people share the urbane space by transforming the roads and city structure by time of the…
Genre:
Summary: The mega-corporate Daedalus Group is under attack by a small group of activists known as the Ghost of Icarus. While taking care of some of the victims of the bombing, Black Jack encounters Dr. Kiriko, also known as Death Incarnate, who just like him, asks his patients huge sums of…
Genre:
Summary: Set in a part of Tokyo that has descended into a quagmire, the story follows Unit 8 of the 5th Special Public Security Section's 3rd Mobile Assault Division, popularly called "The Eighth," who don powered armor "Willwear" exoskeletons to counter the rise in crime.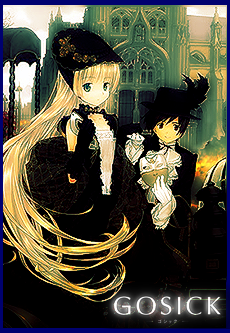 Genre:
Summary: GOSICK takes place in 1924 in a small, made-up European country of Sauville. The story centers on Kazuya Kujo, the third son of a Japanese Imperial soldier, who is a transfer student to St. Marguerite Academy, where urban legends and horror stories are all the rage. There he meets…
Genre:
Summary: While attending his grandfather's funeral, thirty-year-old bachelor Daikichi is surprised to discover that his grandfather had an illegitimate child with an unknown mother! The rest of his family, fearing the obligation and embarrassment, want nothing to do with the silent little…
Genre:
Summary: Aya Tachibana is a sixth-grader who frets and obsesses over friends, family, grades, and more. One day, she joins the "Tantei Team KZ" with four very idiosyncratic boys she met at cram school. There is the glib and attention-grabbing leader Kazuomi Wakatake, the mysterious "expert…