Genre:
Summary: Juuzawa Juu is a delinquent high school boy who just wants to be left alone. One day, he is approached by Ochibana Ame, who claims that she knew him in a previous life, and now wants to serve him as his "knight". At first Juu wants nothing to do with Ame, but after a classmate is…
Genre:
Summary: The anime adaptation of the game (same title).This is the TV broadcast and thus, censored. Nonetheless, the video quality is still above the DVD rips, all thanks to the sources.Average File Size: 57.75MB
Genre:
Summary: Lupin III chronicles the adventures of Arsene Lupin III, the world's greatest thief, and his partners in crime: master marksman Daisuke Jigen, beautiful and scheming Fujiko Mine and stoic samurai Goemon Ishikawa XIII. Lupin and his gang travel around the globe in search of the world's…
Genre:
Summary: Who needs school, who needs baseball, and who needs friends? That's the attitude of high school delinquent, Taishi Fura, who became a loner after falling out with his peers. One day, he witnesses the brutal attack of a ghoul, which left one of his former friends in the hospital and…
Genre:
Summary: Youto Yokodera is always thinking about his carnal desires, but no one acknowledges him as a pervert. He learns about a cat statue that supposedly grants wishes. The boy goes to pray that he will be able to express his lustful thoughts whenever and wherever he wants. At the statue,…
Genre:
Summary: Anime adaptation of Bandai Namco's PSP action game series "God Eater." Set in Japan in the year 2071 where the world has been mostly destroyed by mysterious monsters known as the Aragami. An organization known as Fenrir was made to exterminate Aragami using weapons called…
Genre:
Summary: The anime's story begins when Ao opens a package that arrives at her doorstep. Inside the package is Gourai, a Frame Arms Girl: a small robot capable of independent movement. Gourai is a newly-developed prototype: a Frame Arms Girl equipped with an "Artificial Self," an advanced…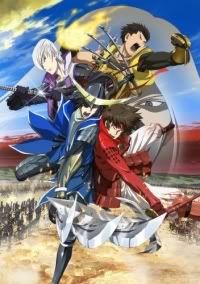 Genre:
Summary: The story of the film is set after the conflict instigated by Toyotomi Hideyoshi ended, but not before the Battle of Sekigahara determines who shall be the Shogun of Japan.