The Melancholy of Haruhi Suzumiya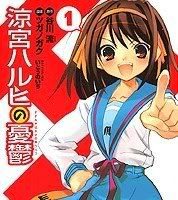 Type: Manga
Episode Count: 14
Media: Scanlation
Genre: Comedy Psychological Science-Fiction Slice-of-Life Supernatural
Related:
The Melancholy of Haruhi… (TV) - Adaptation

Discussion: None
Date Added: March 21, 2008, 05:07:10 PM
Status: Waiting for Subs
Maintainer: Usami-Akihiko

Summary: She has no interest in ordinary humans and unless you are an alien, a time traveler, a slider or an esper you will be brushed off by two words. She looks for mysteries, but is much closer to them than she thinks. Haruhi Suzumiya always gets what she wants. Neverhless, her classmate Kyon, an ordinary human, wants something else and she realizes that it is not all the same to her.
| Name: | Mirror: | Uploader: | Added on: | | |
| --- | --- | --- | --- | --- | --- |