Sunohara-sou no Kanrinin-san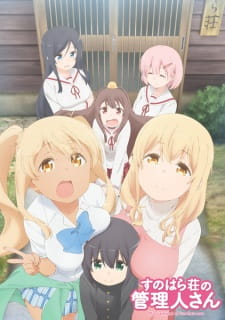 Type: TV
Episode Count: 12
Media: DVD/BD Subbed
Genre: Comedy Ecchi Slice-of-Life
Related:
None found

Discussion: None
Date Added: October 04, 2019, 12:32:42 PM
Status: Complete
Maintainer: DeadHungryKat

Summary: The series follows Aki Shiina, a shy boy whose feminine looks often cause him to be mistaken for a girl. As he is about to enroll in Tanamachi Middle School, he moves into the lodging house Sunohara-sou in Tokyo, run by the motherly caretaker Ayaka Sunohara, whom he forms a crush on. The other residents of Sunohara-sou are three girls from the Tanamachi student council: Yuzu Yukimoto, Sumire Yamanashi, and Yuri Kazami. Although he moved to Tokyo because he was being teased for his feminine looks and wanted to reaffirm his identity as a man, he keeps being mistaken for a girl, and Ayaka and the girls frequently tease him and make him wear women's clothes.