Detective Conan Movie 21: Karakurenai no Love Letter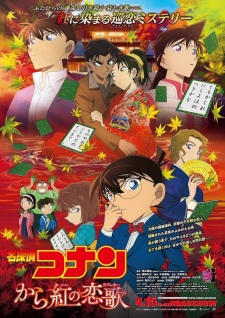 Type: Movie
Episode Count: 1
Media: DVD/BD Subbed
Genre: Action Mystery Romance Drama Shounen
Related:
None found

Discussion: None
Date Added: April 14, 2018, 04:10:30 PM
Status: Complete
Maintainer: DeadHungryKat

Summary: Movie 21 focuses on Ooka Momiji, a girl connected with Heiji's past. With her being a skilled karuta player, she's geared up to participate in a yearly tournament when a bombing on Nichiuri TV occurred. Conan, Heiji, Kazuha and the rest of the gang got involved, leading them to a spiral of cases in which they have to determine who's the real perpetrator of the crimes. Note: Register an account in mega.co.nz to bypass the bandwidth quota set within the limitations per user.