Girls und Panzer der Film + OVA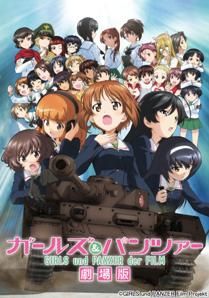 Type: Movie
Episode Count: 1
Media: DVD/BD Subbed
Genre: Military Sports Action School-Life
Related:
Girls Und Panzer (TV) - Prequel

Discussion: None
Date Added: June 01, 2016, 05:31:39 AM
Status: Complete
Maintainer: DeBritto

Summary: Sometime after the 63rd sensha-dou tournament, Oarai held an exhibition match. (Tag team battle match is great after all).

But in order to keep the school open, Miho and her team must win a match against a university sensha-dou team.

This time, they are not alone. They join forces with Chi-ha tan, St. Gloriana, Saunders, Anzio, Pravda and even Black Forest against the university team. Together with all support, Miho leads forwards to save their school once more.

Against an opponent with superior equipment, victory seems to be impossibly out of reach.. Can Miho and her allies has a chance to win?? Panzer Vorr..!!


Password Film : anigup


note : OVA is full of "fuwa - fuwa" stuff...