Blade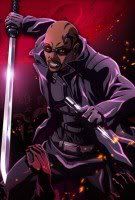 Type: TV
Episode Count: 12
Media: Fansub
Genre: Action Supernatural Vampire Violence
Related:
None found

Discussion: None
Date Added: July 07, 2011, 03:13:55 AM
Status: Complete
Maintainer: Tiki-sensei

Summary: Born to a mother turned while pregnant, blade is a daywalker. Half vampire half human. He has the the abilities of a vampire including the need for blood, yet can walk out in the daylight. He chooses to use these abilities to be a vampire hunter and rid the world of all vampires.