Moetan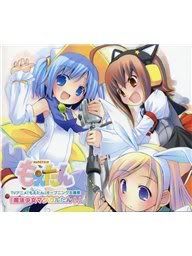 Type: TV
Episode Count: 13
Media: Fansub
Genre: Comedy Magic
Related:
None found

Discussion: None
Date Added: July 13, 2008, 01:39:22 AM
Status: Complete
Maintainer: Exd1

Summary: Ink Nijihara is a girl in high school. Unfortunately her crush Nao Tezuka barely recognizes her. To make matters worse, she is very short. Now Ink meets a duck and becomes a "mahou shoujo" and teaches Nao English in disguise.

READ:
Deshi, arcueid encoded & uploaded these files. Episode 5.5 replaced Ep6 due to content issue when airing in Japan. Ep6 was released as a DVD. Episode 5.5 may be added here in the future. Episode 13 is a bonus episode from dvd released in March in Japan.